How the San Diego Just Cause Eviction Ordinance Affects Your Property
The San Diego Just Cause Eviction Ordinance controls how you are able to terminate the lease of a tenant that has lived in your property for more than 2 years.
In 2004, the City of San Diego adopted the just cause eviction ordinance, also referred to as the
tenant's right to know
. This ordinance was enacted to protect tenants that have lived in a property for 2 or more years. It requires landlords and property management companies to have a legitimate reason for terminating a tenant's lease. There are nine specific reasons that allow you to terminate a lease under these circumstances.
Update: For our blog addressing AB 1482 and how it impacts just cause evictions, click here.
If the tenant has paid late rent for three consecutive months or for a total of six months in a calendar year, they can be dismissed from the property. Additionally, if they don't pay rent at all, you can begin the eviction process.
Violations of the Obligation of the Tenancy
If the tenants fail to comply with the lease, you are able to terminate the lease. This can include things like excessive HOA violations, unauthorized pets or tenants, etc.
This is when the tenants are causing serious damage or harm to the property or common areas. It applies to neighboring units as well, i.e. if they are damaging surrounding areas and units or creating excessive noise and refusing to comply when asked.
If the tenant is using the property for illegal purposes or doing illegal things on the property, this is grounds for lease termination.
Refusal to Renew The Lease
When you offer a lease renewal to a tenant for one year and they want month-to-month, occasionally they might refuse to sign the lease you provide because it's not what they want. However, this is considered a refusal to renew the lease and can be grounds for termination. Keep in mind, rental rates are not considered like terms. If you offer a new lease with an increased rate and the tenants refuse, you are able to terminate the lease.
Refusal to Provide Access
This occurs when you are trying to enter the home, whether it be for an annual inspection or to show the property for sale, and the tenant refuses access to the home, despite the notice they were given. Landlords are allowed to enter the home for a set list of reasons and if the tenant continually denies access despite getting written notice and they refuse to reschedule, their lease can be terminated.
Correcting Violations & Major Property Construction
If the home is going to be uninhabitable for a long period of time due to major repairs or renovations, you are able to terminate the tenant's lease.
Withdrawal From the Rental Market
If you plan to withdraw your property from the rental market altogether, you can terminate the tenant's lease.
Owner or Relative Occupancy
If the owner or their relative plans to move back into the home, the lease can be terminated.
If you choose to terminate the lease for one of these reasons, you must inform the tenant as to why their lease is being terminated. We hope this article provided some clarity on just cause eviction rules in San Diego. Check out our chart below for a quick guide to serving notices at your property!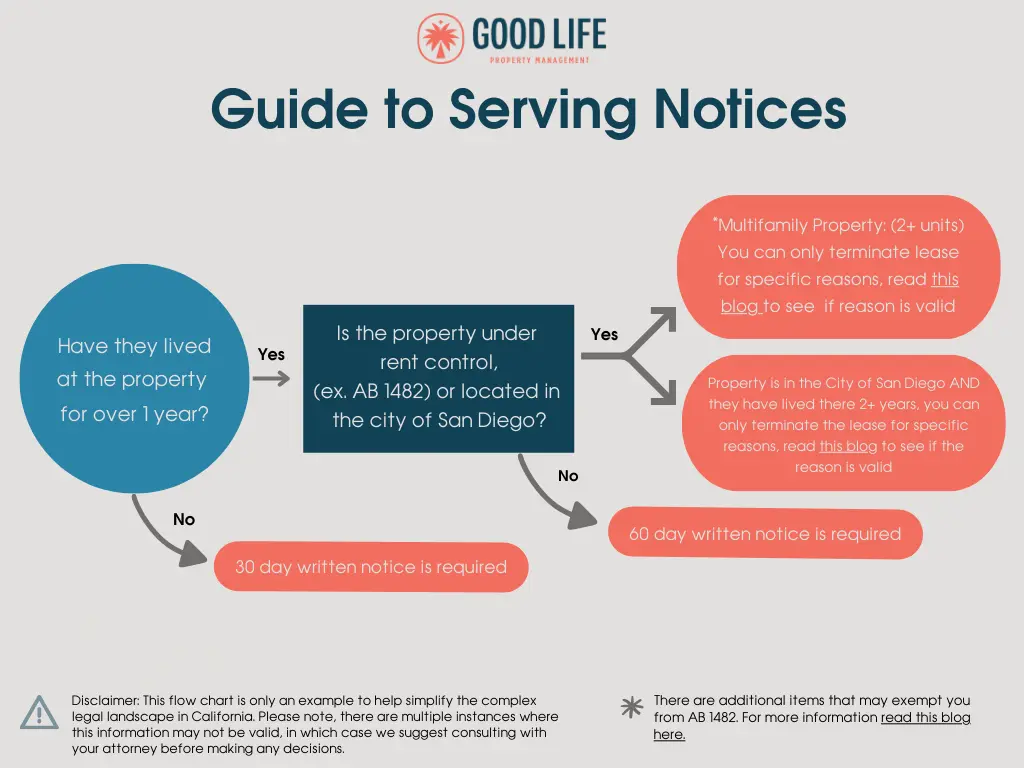 We make owning rental property easy.
We've helped over 1,000 San Diego landlords live the good life and we're ready to help you too. Whatever you choose, you're heading in the right direction. You will live the good life!
We believe that education is empowering.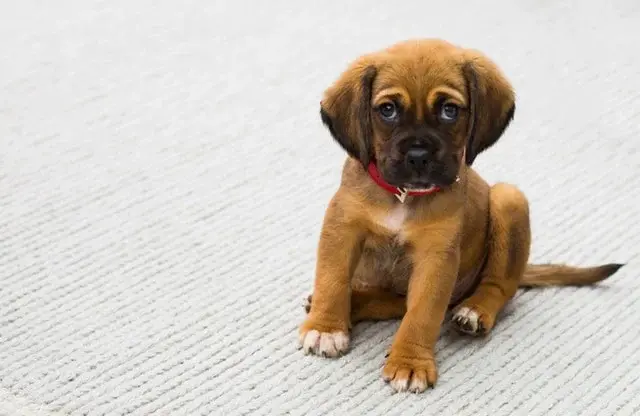 There is a lot of confusion surrounding service animals, emotional support animals, and housing regulations. We're here to explain how these support animals affect your rental property.
Read More »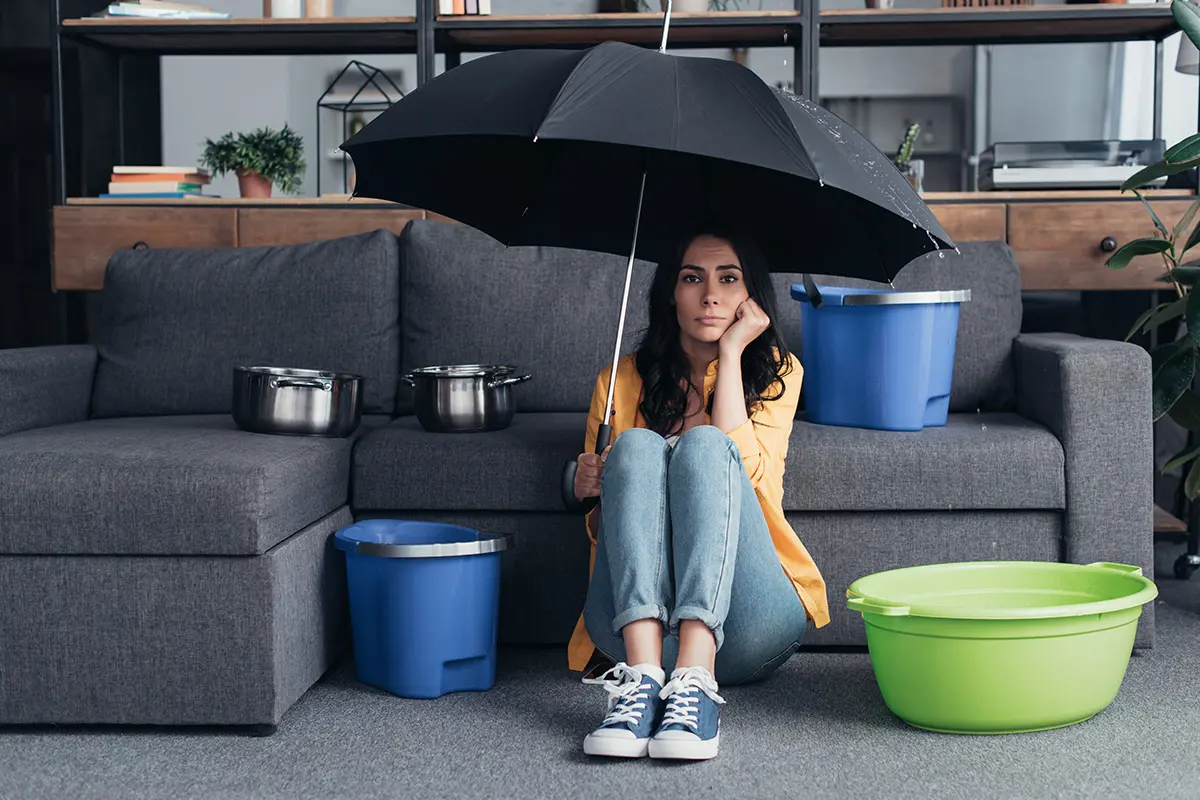 Water damage in a rental property can be a significant headache for landlords and tenants. In this blog, we'll explore how to handle water damage.
Read More »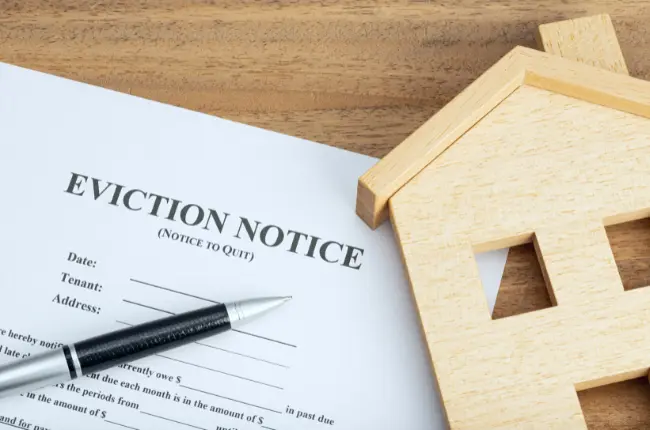 The eviction process in California can be lengthy and costly. We review all of the steps involved in the process and what it might cost you as a landlord.
Read More »