Good Life Giving Back to Our Community
Community outreach is something our team has always been passionate about. When CEO Steve Welty started Good Life in 2013, he knew it was something he wanted to incorporate into the company. When we choose to be part of a community, we compile our knowledge, resources, and skills that allow us to work towards our shared values. Thus, Good Works was born!

We work to bring about a feeling of collective community with our clients, partners, and the local communities in which we physically reside. We place a high value on getting involved with regional groups and non-profit organizations at the city and neighborhood level through volunteering and other acts of service.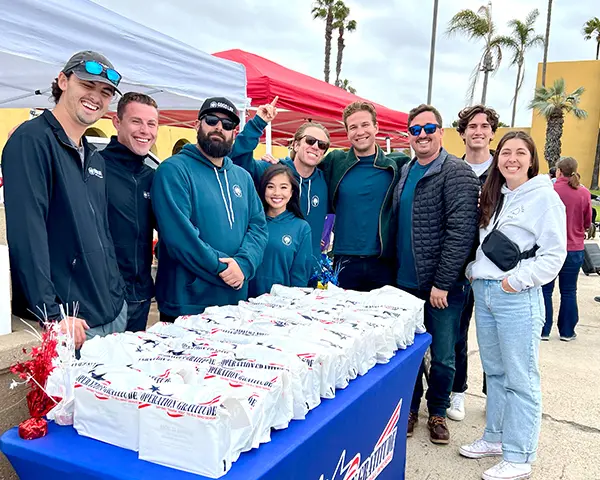 We had the privilege of participating in Operation Gratitude, an incredible event that gives us the opportunity to express our gratitude and support for the brave men and women who serve in the military and as first responders. Our mission for the day was to give gift bags to newly graduated Marines and help them celebrate with their loved ones. These new Marines have not seen their loved ones in 13 weeks! The energy in the air was electric! We cheered as the Marines rushed towards their loved ones, the emotions were high, and we could feel the joy and relief emanating from the reunited families. We handed out gift bags filled with snacks, toiletries, and heartfelt letters of gratitude from members of the community. It was so rewarding to see the Marines' faces light up as they received these small tokens of appreciation!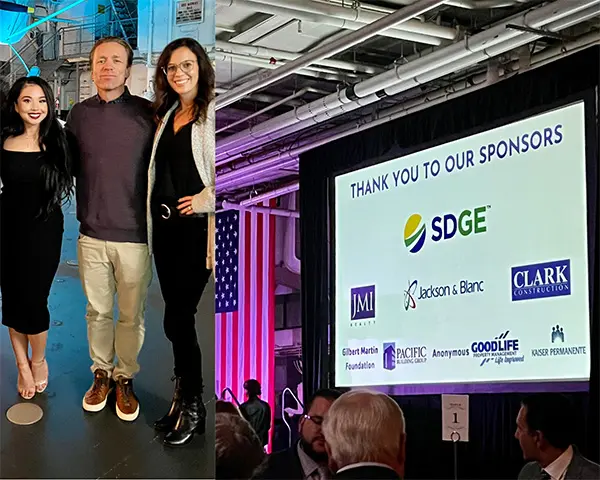 Good Life Property Management is proud to have sponsored the Annual Celebration of the Armed Services YMCA San Diego, which honored the 'Past, Present, and Future' of this incredible organization. Our Good Works community service program was honored to donate to the Horse of the Sun Ranch, a program that provides respite activities for at-risk youth and military families. With this donation we were able to send 20 kids to the Horse of the Sun Ranch! It was truly inspiring to see the impact that the ASYMCA San Diego has had on the lives of so many, and we are honored to have played a small part in their mission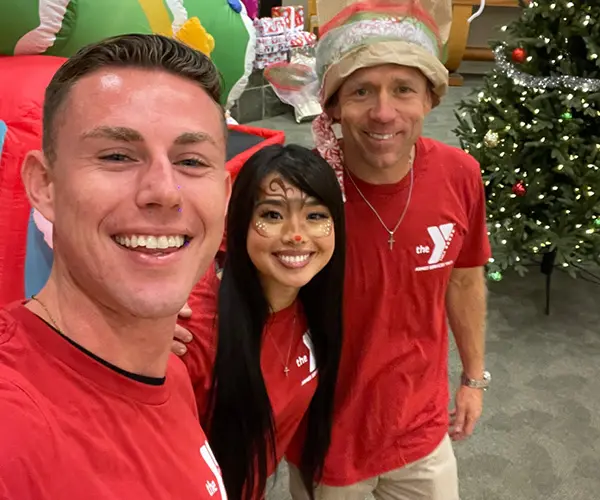 This event was focused on helping active military families who are facing unique challenges. At this event, our team assisted military families with special needs children.

ASYMCA worked closely with these military families and gathered wish lists from their children, some of whom were in the hospital but were given the opportunity to attend this holiday party. Other members of the community worked together to donate these items and had them wrapped and delivered to the event.

Our Good Lifers had a number of roles to play at "The Most Magical Holiday Party"! Steve and Taylor worked as Santa's Elves and got to organize presents and bring them up to the families when it was their turn to talk with Santa Claus.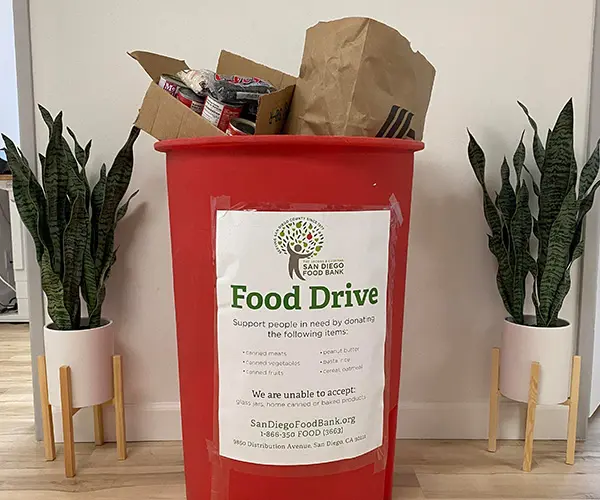 In honor of Hunger Awareness Month, the Good Life team filled the red barrel from the San Diego Food Bank! Way to go! Together we crushed our goal and we successfully completed the "200 Pound Pledge" challenged by the San Diego Food Bank!! By committing to our goal, we have donated over 200 lbs of food to our community and neighbors in need, on-top of that, Steve donated $1,000 on behalf of Good Life and that alone will provide 2,000 meals! That was an amazing and an awesome way to kick-off the giving season!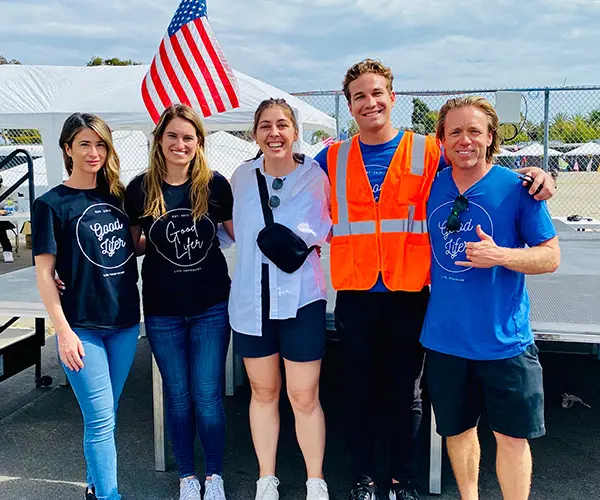 Our Good Lifers helped out at Veteran's Village Stand Down '22 event! This event was focused on helping Veterans who have been down on their luck. Our team had a number of roles to play at the Stand Down event, from keeping the event safe and orderly by volunteering as Head of Security, being Personal Shoppers for the Veterans by helping them pick out numerous clothing items to fill their bags with, and helping to manage the stage and lend a listening ear to anybody who just needed to be heard.
Find your next career at Good Life.
We are always looking for motivated, outgoing individuals to join our team!