San Diego's Top Rated Property Management Company
Here at Good Life Property Management, we specialize in long term unfurnished rentals.
Good Life Property Management has been San Diego's trusted Property Management company since 2013. We maintain properties with the highest standards of quality and service so that homeowners can enjoy a hands-off approach to their real estate investment.
Relax. Earn more.
Live the Good Life.
Welcome to a different kind of property management company. One that believes that life should be enjoyed, not spent sweating the small stuff (or even the big stuff) when it comes to your rental property. At Good Life Property Management, we make owning rental property easy. We care about you, your property, and your tenant. And we do it all, so you can Live the Good Life.
We act in the best interest of the team
We are driven to get better results.
We are positive and fun to work with. 
We solve problems and get things done.
We are always learning and growing.
Schedule a call
Do we sound like a good fit? Contact us to explore a partnership
Finance & Administration Manager
Business Development Manager
Business Development Manager
Strategic Assistant to CEO
Property Management Executive
Director of Property Management
Property Management Executive
Property Management Executive
Property Management Executive
Junior Property Associate
We don't want to be just another property management company, we want to make a positive impact on everyone we work with. Our goal is to create new opportunities for our clients–whether it's simply freeing up their time or helping them find new ways to become a successful investor. Whatever they choose, we're here to make it an enjoyable experience.
We make owning rental property
easy
Renting your property shouldn't be a hassle. It should give you a greater abundance of time, money, and energy. We've developed a team of A-Players who have made this a reality for over 1,000 San Diego property owners. 
Relationships Are The Core Of
Our Business
We never set out to be just another property management company. For many of our clients, these properties are family homes, and we know how important it is to know they're in good hands. We make sure every home we manage is well cared for, that we find respectful tenants, and that we keep open and frequent lines of communication with homeowners. In fact, the personal attention we give each property, and the relationships we build with owners, are one of the reasons we are trusted by over 1000 homeowners in San Diego.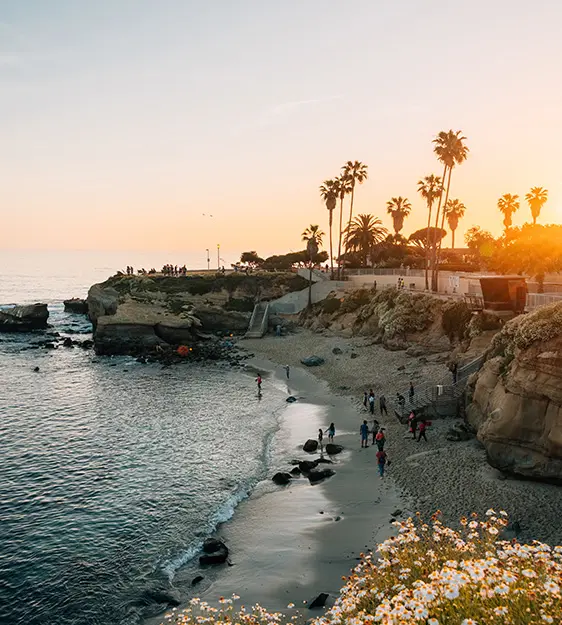 I just went through the process of turning over my condo unit and leasing it out. Good Life has done a bang-up job. Communication has been frequent and consistent. The owner's portal allows me to access documents, statements, and payments online. The listing was well-written with good pictures. And turnover work was done quickly and with a good amount of hand-holding, as this was the first time I've turned over the unit to make it a rental. I would recommend this service to anyone.
Adam and Brent were amazing from start to finish. This was my first time renting a property and they made it extremely easy, especially for me and my wife. Their staff is friendly and will help you with any questions that you comes up with because they are very knowledgeable on renting properties. I never felt pressured in any way and they walked me through every step of the way. They have my strongest recommendation for anyone trying to lease their property. Thanks again guys this was the least I can do.
I own two rental homes. One is managed by Good Life, the other by someone else. Good Life has exceeded all expectations Picture of Michael Peteroyand has pleased me every step of the way. The other company, just a series of disappointments. As soon as possible I'll have Good Life managing both places!
The Goodlife Property Management, Inc. team proved excellent knowledge, expertise and timely in every facet of management. I gained confidence that answers, solutions, and record keeping would be supplied as needed consistently and comprehensively by Goodlife. I highly recommend them as a conscientious and skillful management team.
Been working with the GoodLife team for a little over a year. Very responsive, transparent, and helpful team. Adam, Natalia, Bryce, and Grace have all been awesome to work with and would recommend them to anyone. Well worth it knowing these guys have every detail taken care of, but are also open to my ideas and suggestions.
I utilized GLP for my rental property management for two years and then used their agent to sale my rental. Every step of the way GLP went beyond anything I have experienced with either HOA's as a renter or the two other rental agencies I've used for my other rental properties. What a great company to do business with, they have professionalism embedded in every layer of their organization. If I'm ever in the SD real estate market again, I'll certainly be calling them back. Thanks for the stellar experience!
They have been really professional and get things done quickly. It's always been easy to reach them and I would definitely recommend their services to everyone.
Good Life is a lot more than property management. We are a relationship business that takes care of all your needs, from property inspections to maintenance calls. We serve as an ally for homeowners who want to rent their property stress-free.
Find your next career at Good Life.
We are always looking for motivated, outgoing individuals to join our team!