Best Beach Neighborhoods in San Diego
San Diego has plenty of different beach cities to choose from.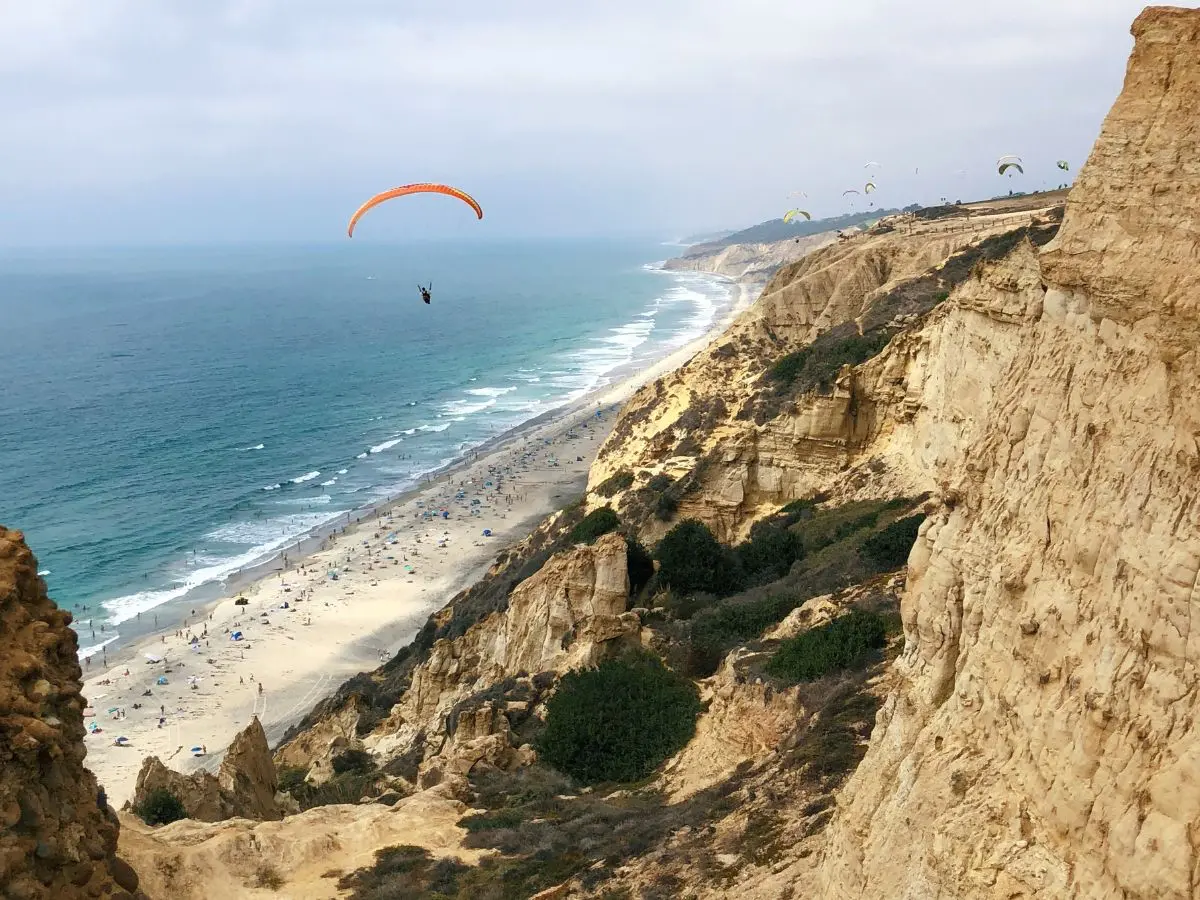 San Diego is home to many different beaches, resulting in a plethora of beach towns. Each town has a different vibe and different housing options. Depending on what activities you like and what part of the city you want to be in, you might be more suited for one town over the other. We're here to tell you about all of the most popular beach towns in the San Diego area and what each of them have to offer.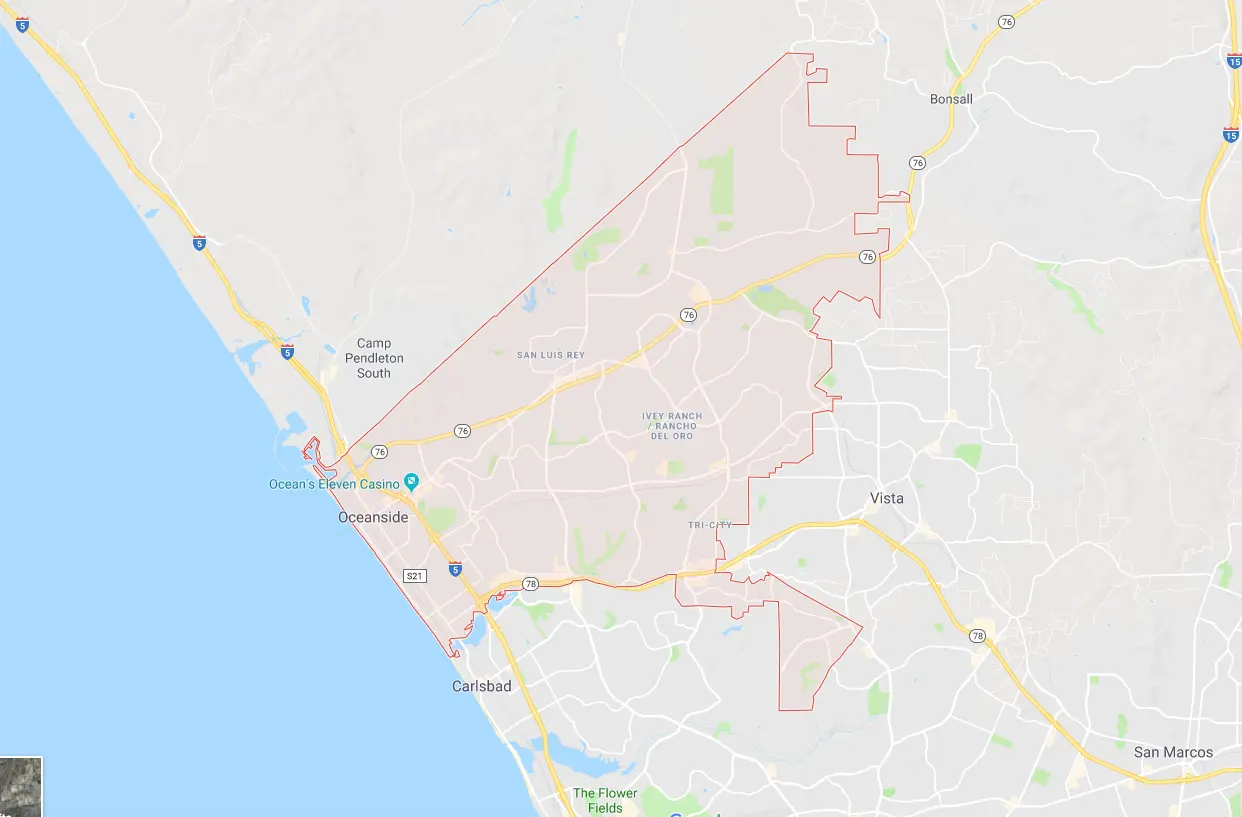 Oceanside is a coastal city in the northernmost part of San Diego. It is home to the marine corps base Camp Pendleton, making it a great spot for military couples and families. There are fantastic beaches in the area including Harbor Beach, Breakwater Way, and Oceanside Pier. You can learn to surf, go fishing, or go on a whale watching excursion. There are great biking trails and many biking events, such as Race Across America and Bike the Coast-Taste the Coast. If you're a fan of fresh, organic produce, you'll love the weekly Farmers Market. 
For indoor activities, there are fun museums in Oceanside. Check out the California Surf Museum to learn more about surf culture and the influence it has in San Diego. The Museum of Making Music is perfect for you if you want to know about the history of music and the vast changes it has gone through in the last century.
Rent prices in Oceanside tend to skew much lower than other beach neighborhoods in the county. This is likely because it's the furthest from central San Diego. The average 2-bed, 2-bath in Oceanside rents for $1,800.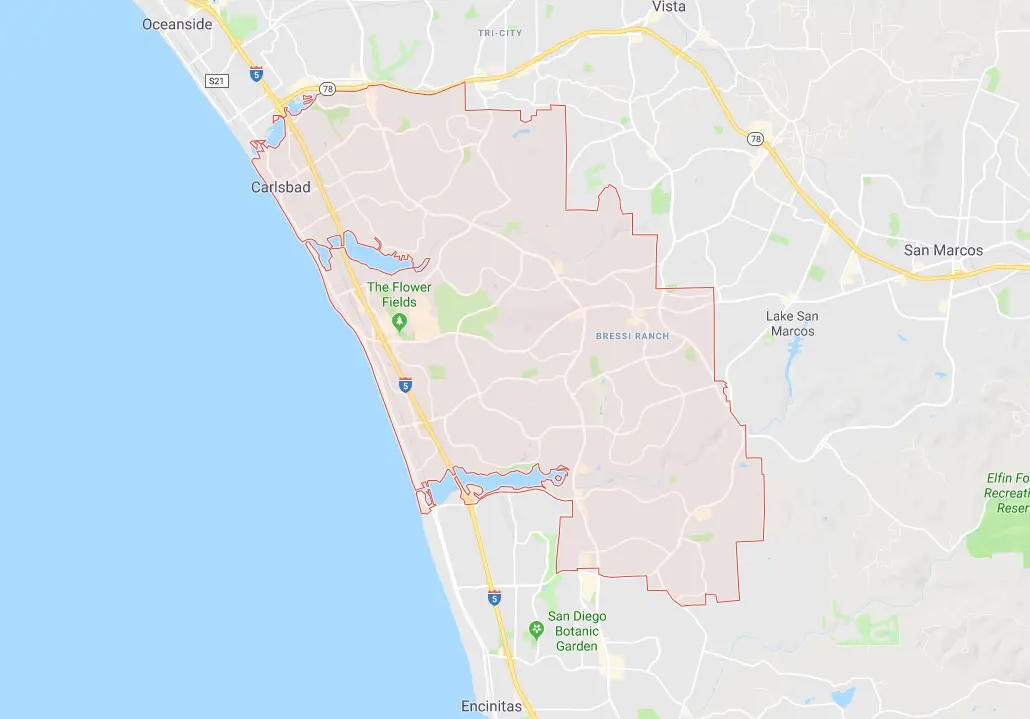 Carlsbad is a beautiful area in Northern San Diego and is full of beach houses and cute condos right near the beach. Carlsbad State Beach is the perfect spot for family trips and is close by to some great restaurants and shopping. In the spring, you can visit the Carlsbad flower fields, famous for their endless fields of blooming flowers. Legoland is perfect for families with kids and is only a short drive down the freeway. There are a number of fun breweries to check out and great golf courses in the area as well. Every spring Carlsbad hosts the Carlsbad Village Street fair, the largest one-day street fair in the nation.
The city has great options for schools, making it a good place for families. Check out Pacific Rim Elementary and Olivenhain Pioneer Elementary for your young ones. Aviara Oaks Middle School and Carlsbad High are good options for intermediate schooling. Rent prices in the area are slighter cheaper than beach cities that are closer to San Diego. The average 2-bed, 2-bath rents for $2,400.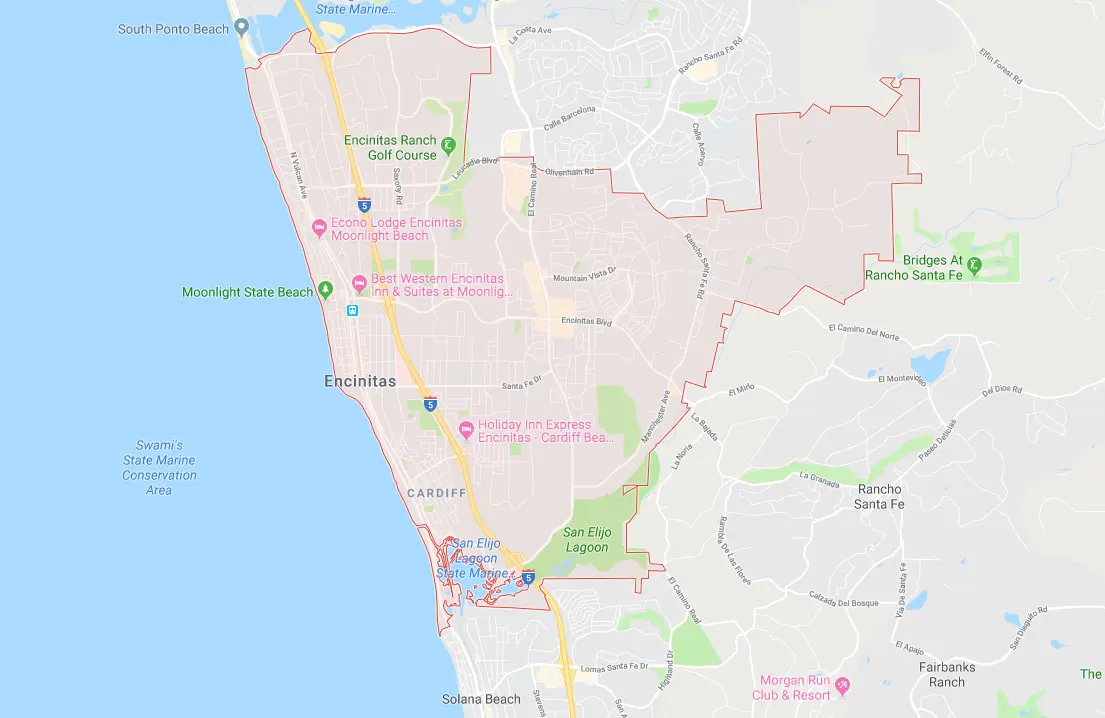 Encinitas is a quaint beach town just off of Highway 101. Named one of the 20 best surf towns in the world by National Geographic, Encinitas is a great place to live if you love the California lifestyle. In the downtown area, you'll find cafes, restaurants, and boutiques. Better Buzz Coffee is the perfect place to sit down and enjoy their famous Best Drink Ever. After that, if you're hungry stop by The Taco Stand for some out-of-this-world tacos.
Every spring, Encinitas plays host to the Encinitas April Street faire, which takes place over the course of two days. You can enjoy arts and crafts, vendors, and live music for the weekend. In the fall, the town holds the Fall Festival. This festival has children's rides, great food, and live music as well. Don't forget to check out the Classic Car Nights from May-September. On the third Thursday of those months, people gather around to admire classic cars on Main Street.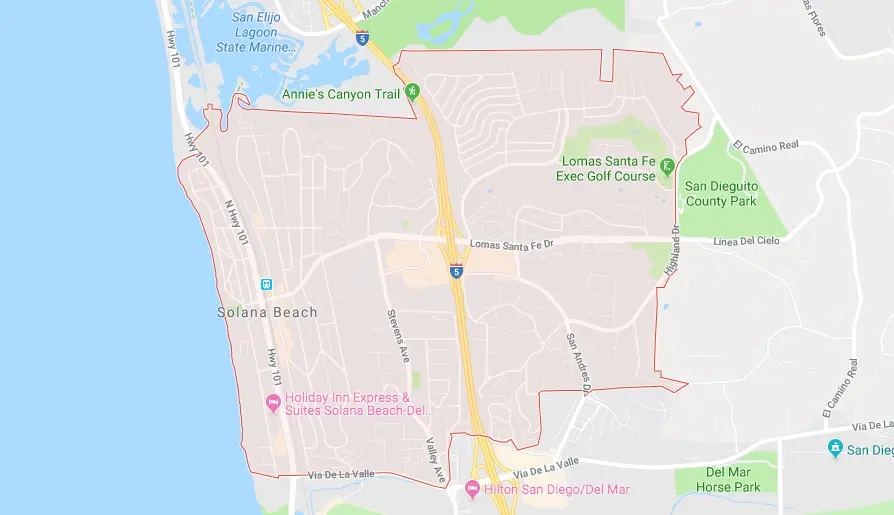 Roughly 30 minutes from downtown, Solana Beach is a great place if you want to be close to the beach but not too far from central San Diego. One of the more laid-back neighborhoods, there are a number of great juice bars and coffee places to relax at. For some delicious brunch, head over to Claire's on Cedros. They're one of the top-rated spots in all of Solana Beach! For entertainment, there are a few notable music venues in the area. Check out Belly Up Tavern and Music Box to see some small acts and grab a drink. For outdoor activities, there's Tide Beach Park. This is a great spot for swimming, snorkeling, surfing, and even fishing!
Solana Beach is a good spot for families, with one of the top school districts in the state just a short drive away. There are mostly single family homes in the area, with a few apartments and condos scattered throughout.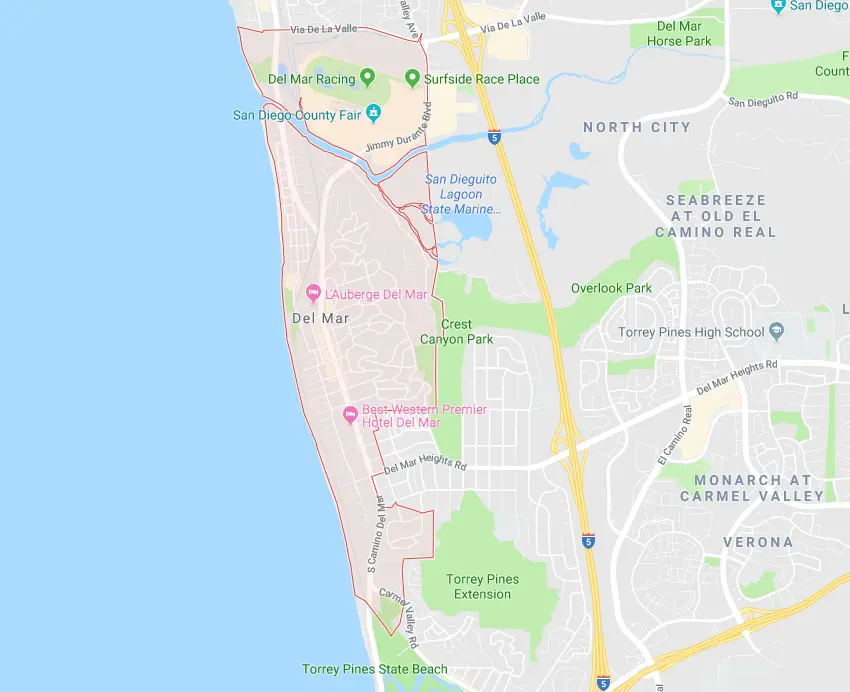 Del Mar appeals to many different types of people, likely because of its various different activities. Its most famous attractions are the Del Mar Racetrack and the annual San Diego County Fair. People come from all over the county to head to the races during the summer and fall. In July, much of the county gathers at the county fair for rides, fair food, and a month full of music acts. Every September, North Beach, Del Mar's dog beach, hosts a dog surfing competition that is fun for all. Even when it's not event season, Del Mar has plenty else to offer. If you want to be near shopping, Del Mar Highlands Center has a number of shops and plenty of restaurants.
Rent prices do tend to skew quite a bit higher in Del Mar, likely because of proximity to the ocean, numerous attractions, and good schools. Average rent is typically around $2,700 for a 2-bed 2-bath.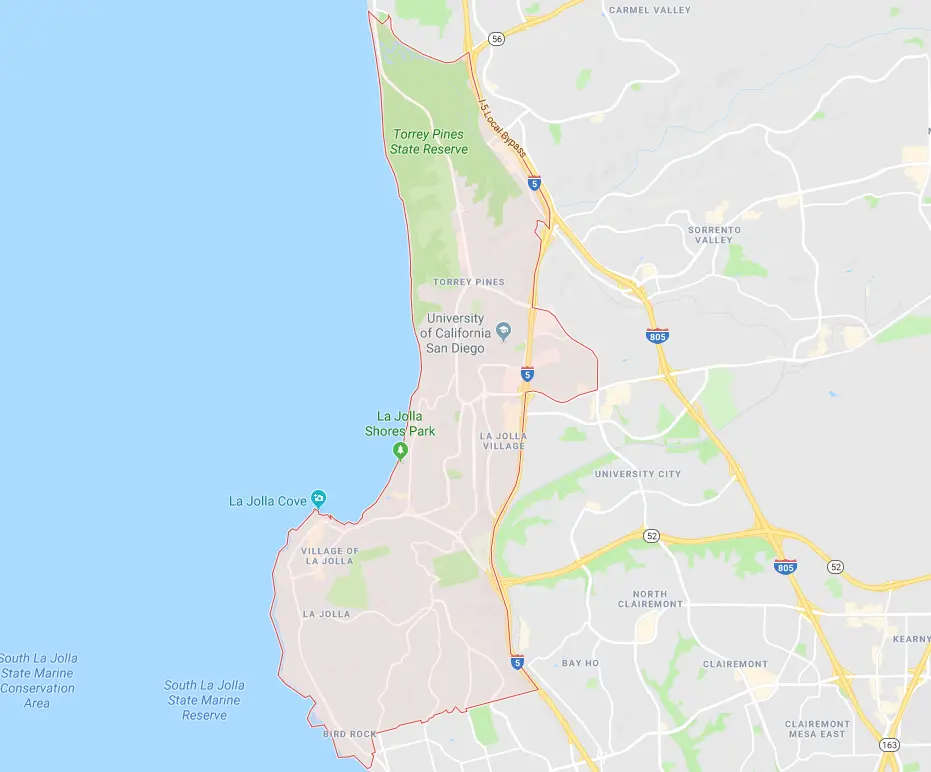 La Jolla is a beautiful spot on the edge of central and north San Diego. Staying true to its name (La Jolla means "the jewel"), it's a popular place for tourists and residents alike. La Jolla Cove is a fun place to spend the day, especially when the sun in shining and the sea lions are out on the beach. Next to the cove is Ellen Browning Scripps Park. Here you'll find people working out, sports teams practicing, and people laying out and catching some rays. 15 minutes up the road you'll find Torrey Pines, which is popular for golfing and hiking.
La Jolla Village is a good spot for boutique shopping. You'll find some unique clothing stores as well as favorites like Lululemon, White House Black Market, and Kate Spade. Down the street from all the shopping is The Lot, a movie theater/restaurant that can serve you lunch and dinner during your movie.
Similar to Del Mar in price, La Jolla is one of the more expensive areas. The population tends to be mostly families and people that have retired.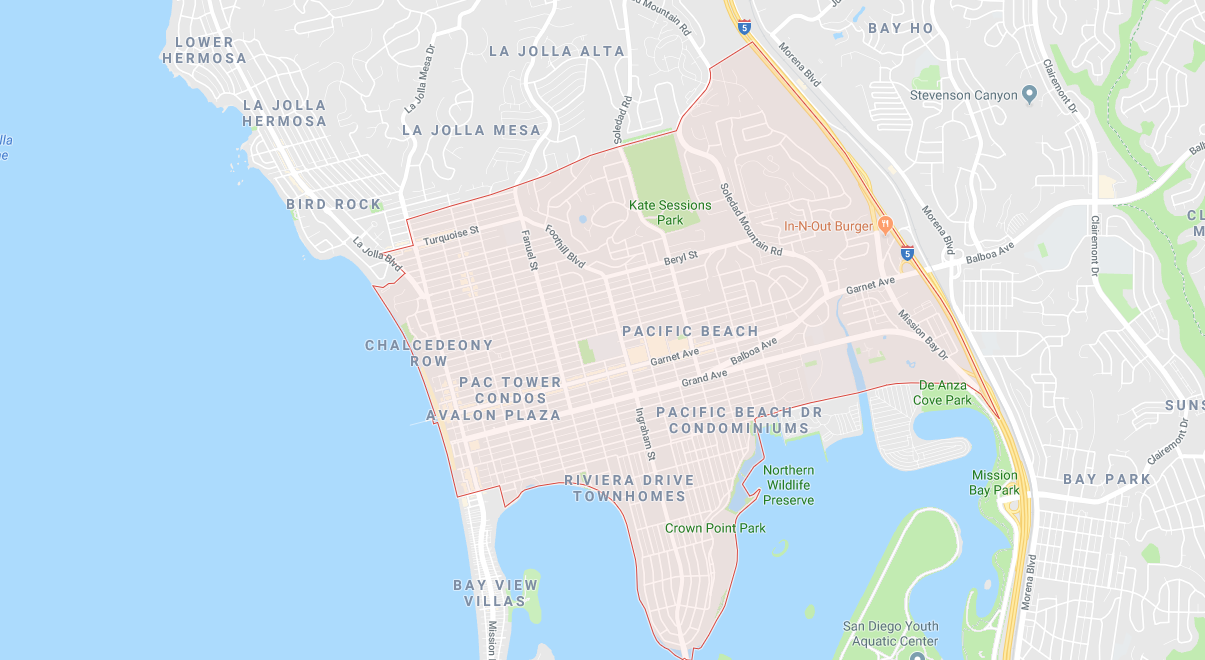 As you move further south, you'll find that more of the younger population lives in these areas. Pacific Beach is home to many college students and young professionals. Families tend to stay toward North Pacific Beach because it tends to be quieter than the central streets like Grand and Garnet.
Pacific Beach is a good beach for hanging out with the family, laying out and relaxing, and surfing. After a morning at the beach, there are a lot of great cafes and brunch spots just a short walk away. One of PB's most popular brunch spots, Crushed, is famous for their morning mimosa flights. A few blocks away you'll find Breakfast Republic, another on of San Diego's favorite breakfast places.
There is a variety of housing in Pacific Beach, from small apartment complexes, condo complexes, and single family homes. Average rent for the area is $2500 for a 2-bed, 2-bath. Prices tend to increase the closer you are to the water.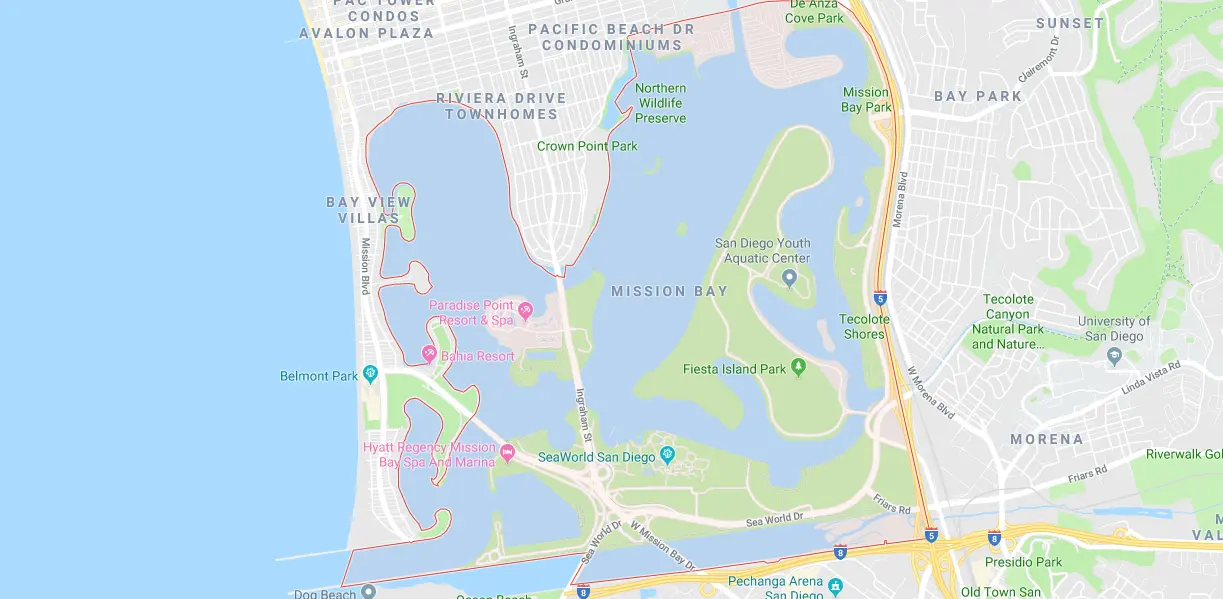 A short drive away from Pacific Beach is Mission Bay. Mission Bay is a very popular town for tourists and vacation rentals. Belmont Park and Mission Beach brings thousands of families to the area every year. It's a great place for kids, with the rides, carnival games, and arcade. There's even a wave rider when you and your kids can practice riding the waves before you head out to the ocean! If you love all kinds of water sports, Mission Bay will be your favorite spot. It's a great area for jet-skiing, paddle boarding, and everything in between.
There are primarily small apartment complexes for rent, but you'll find some homes in the area as well. Mission Bay is the most central location of all the beach towns, so you'll be a 10-15 minute drive to most other popular city attractions.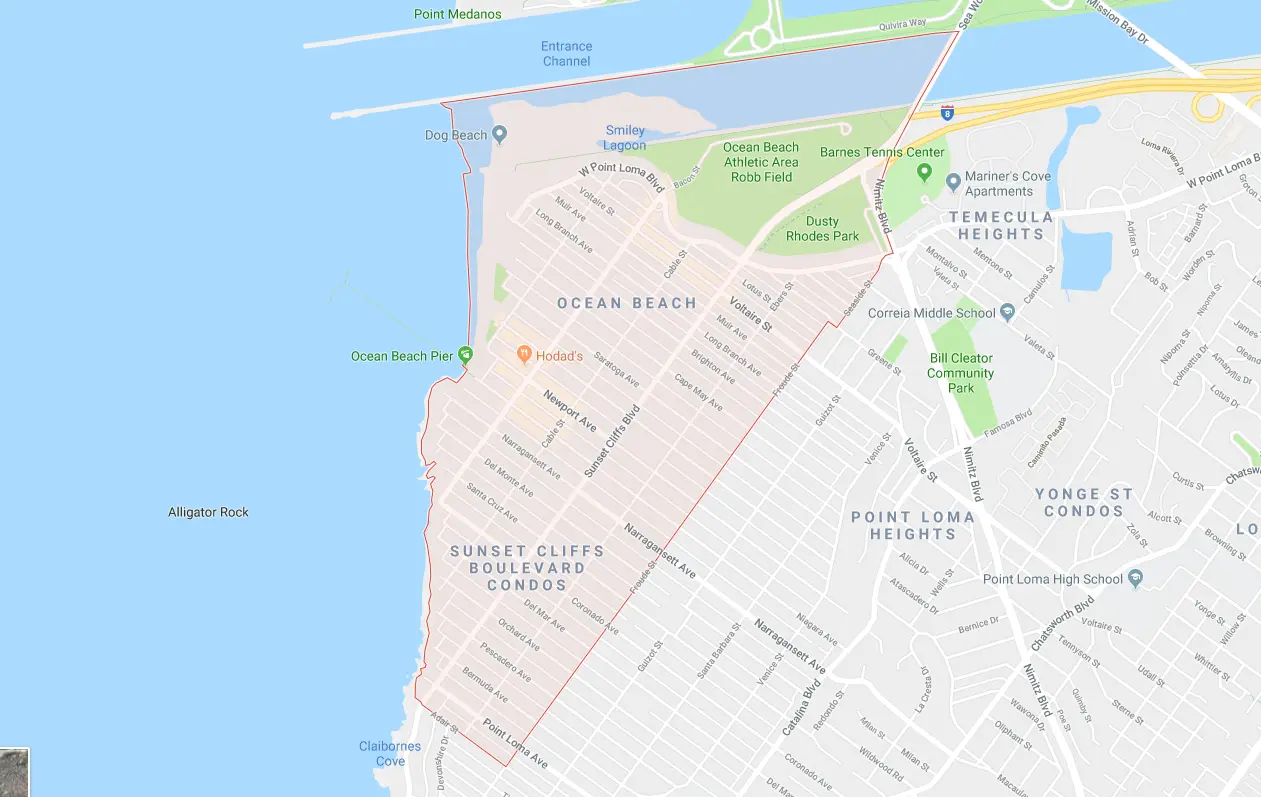 Ocean Beach is a small community just south of Mission Bay and west of Point Loma. It's the funkiest of the beach towns, chock-full of trendy thrift shops, tattoo parlors, and unique eateries. It's most-loved attraction is the dog beach. People are welcome and encouraged to bring their dogs and let them run around the beach. A short walk away is the Ocean Beach Pier, one of the only places in the city where you can fish without a California fishing license.
OB also has some of the city's favorite restaurants. If you watch Diners, Drive-Ins, and Dives, you may have heard about OB Noodle House. It may not look like much from the outside, but they have some of San Diego's best pho and fried rice. Down the street you'll find Hodad's, the much talked-about burger joint where you can enjoy a delectable burger while watching the waves roll in.
The town has a very strong sense of community. It's very walkable and locals tend to frequent the same bars every weekend to relax and catch a football game. Ocean Beach is primarily single-family homes and then tend to be a little smaller than the average house.
If the beach isn't your thing, check out our article on 5 great neighborhoods in the San Diego area!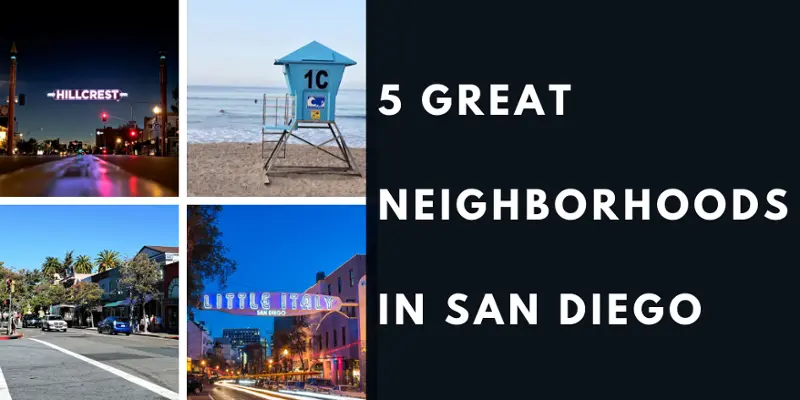 We make owning rental property easy.
We've helped over 1,000 San Diego landlords live the good life and we're ready to help you too. Whatever you choose, you're heading in the right direction. You will live the good life!
We believe that education is empowering.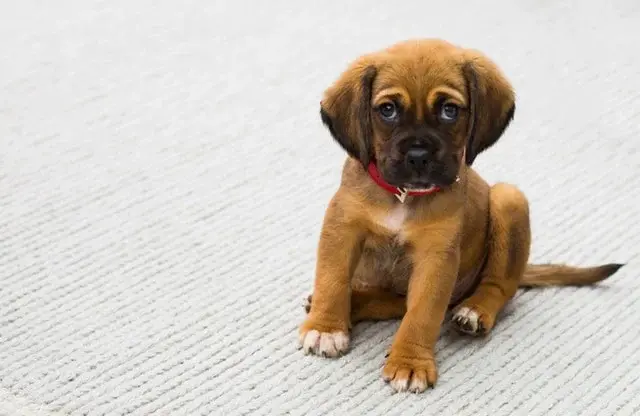 There is a lot of confusion surrounding service animals, emotional support animals, and housing regulations. We're here to explain how these support animals affect your rental property.
Read More »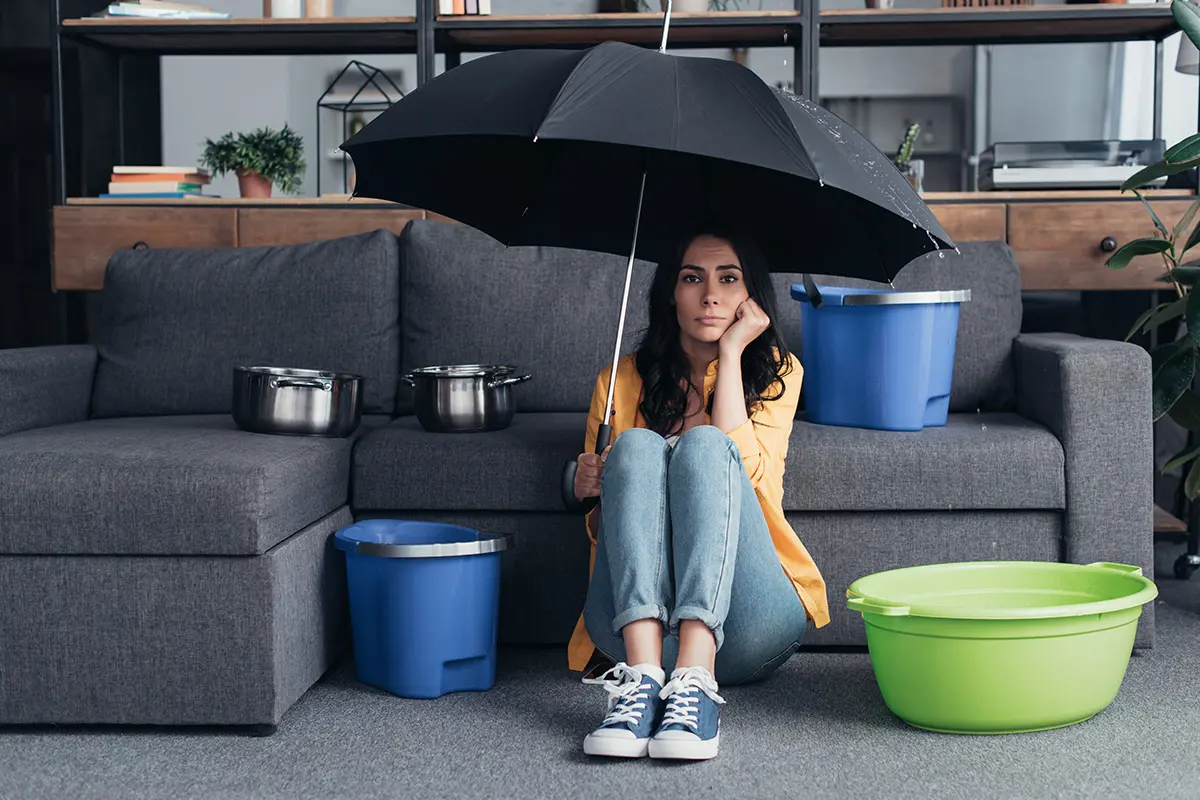 Water damage in a rental property can be a significant headache for landlords and tenants. In this blog, we'll explore how to handle water damage.
Read More »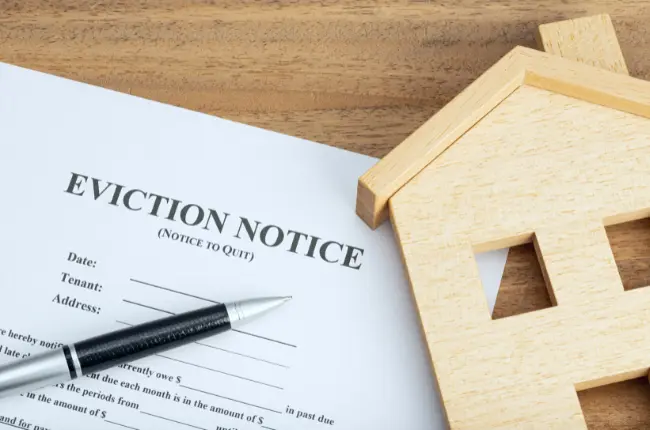 The eviction process in California can be lengthy and costly. We review all of the steps involved in the process and what it might cost you as a landlord.
Read More »