La Mesa

Property Management
Good Life Property Management has become experts in La Mesa property management over the last 7 years. As a result, we know how to effectively market and manage your La Mesa home. We find that days on market are average when compared to other areas and vacancy is about average as well. La Mesa property management can be challenging, but doesn't have to be with Good Life.
If we have to evict a tenant we placed, for non-payment of rent, we will pay for the eviction up to $3,000 (which usually covers all court costs and attorney's fees)! We will also find a new tenant for free.
At no additional cost to the owner, we will reimburse damages caused to the home above wear and tear up to $3,000 total.
We stand by our word. If for any reason you are not happy with our service, neither are we. We'll refund you up to
 one year
of paid monthly management fees if you aren't happy in the first year of service. We're committed to 100% client satisfaction!
Our
La Mesa

Property Management Services
La Mesa is a small town just east of the college area and San Diego State. It's a good spot for those who prefer things a little quieter than the beach towns and city life areas. It also tends to have much cheaper rent prices than the majority of San Diego.
La Mesa has a popular farmer's market every Friday from 3PM-7PM. Stop by to pick up some fresh produce, grab a bite to eat, or check out some arts and crafts made by local vendors. If you like to play games while grabbing a beer, Coin Haus is the spot for you. They have tons of arcade games and over 50 beers that you pour yourself! Bolt Brewery is another popular place for beers and bites.
There are a number of outdoor activities near La Mesa. If you enjoy hiking, you'll love Cowles Mountain. Just a short drive away from central La Mesa, this 3-mile hike is a  great way to get some exercise and have fun with friends and family. You can also visit Mt. Helix, which is accessible by car, to see a beautiful view of San Diego.
La Mesa Neighborhoods by Price
The map below shows the average home prices for different areas of La Mesa. The darker areas are more expensive and prices decrease in the lighter zones. The priciest areas are close to Lemon Ave and Mount Helix. Cheaper options can be found by Cowles Mountain and Alvarado Road.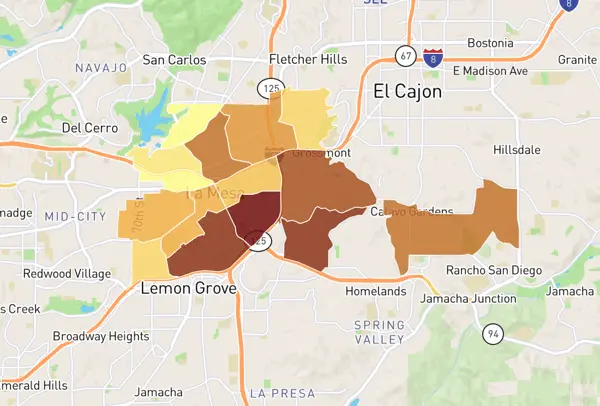 La Mesa Neighborhoods Ranked in Safety
The above map showcases the amount of crime per neighborhood in La Mesa. Darker areas see higher instances of crime whereas the lighter ones tend to be safer. The most crime is concentrated around the city center; outlying areas near Grandview Road and Spring Street have the lowest rates.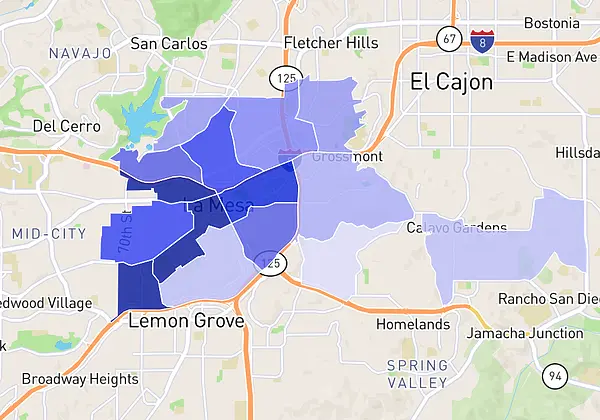 How we market your La Mesa property
When our property management company markets your La Mesa property, we use the most popular online platforms. In other words, we create listings on websites such as Zillow, Trulia, Hot pads, and more to allow potential renters to easily find your property. We showcase extensive information about your property, including images, amenities, price, and more.
How we help you find the perfect rent price
Our property management company assists you in determining the best rental price for your property by conducting a thorough market analysis. This includes investigating comparable properties in the area, examining current rental market conditions, and taking into account factors such as your property's location, size, and condition. Based on this analysis, we will recommend a competitive rental price that will assist you in attracting the right tenants for your property.

Furthermore, our property management company will monitor the rental market and adjust the price as needed to ensure that your property remains competitive and generates the desired rental income.
The Good Tenant Screening
At our property management company, we understand the importance of finding the right tenant. That's why we've orchestrated the Good Tenant Screening. This thorough and comprehensive process ensures that we find tenants who are reliable, responsible, and will take care of your property as if it were their own. Our screening process includes credit checks, background checks, previous landlord references, and more. Trust us to take the stress out of finding a tenant and give you peace of mind knowing that your property is in good hands.
We direct deposit rent to your bank account
We use online rent payment portals, automated reminders, and late payment penalties to make sure that rent is paid on time. We also have a dedicated team who will follow up with tenants who are late on their rent to ensure that payments are received as soon as possible. With us as your property management company, you can rest easy knowing that rent collection is in good hands and that you'll always be paid on time.
We've got your property maintenance covered
There are so many benefits to a well-maintained property; they rent faster, keep tenants happy, and have low turnover. That's why we're invested in quality maintenance and inspections of your property. Over the years, we've built great relationships with the best vendors in San Diego, so we can make sure your property receives affordable and quality care.
Give us a call for a
free consultation

!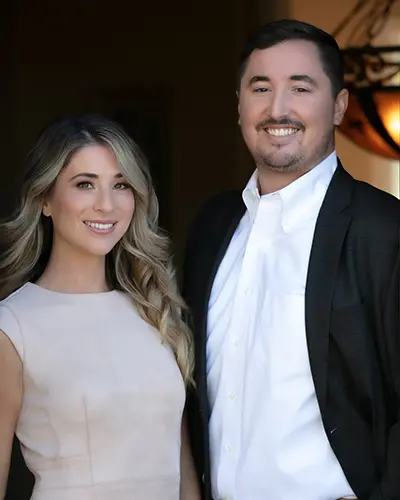 Chloe Slater & Adam Manly
Business Development Managers
Request a free consultation
Earn money through our Agent referral program by referring clients who need Cardiff property management services.
We make owning rental property
easy
Renting your property shouldn't be a hassle. It should give you a greater abundance of time, money, and energy. We've developed a team of A-Players who have made this a reality for over 1,000 San Diego property owners.
We can do the same for you.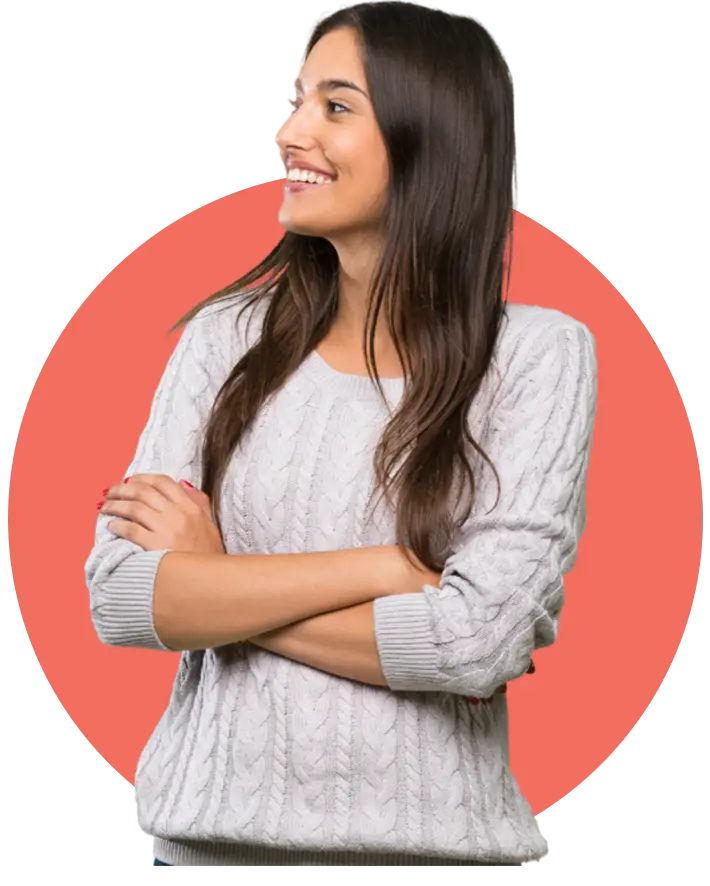 Pros of Investing in La Mesa
La Mesa is a popular area for first-time home buyers, as it is cheaper than other popular areas in the county (North Park, La Jolla, etc.). It's a hot spot for both investors and owner occupants. This means that good deals get swept up quickly. La Mesa has a lot to offer between the short drive to the beach, closeness to SDSU, and cute downtown area. Renters are just as keen on La Mesa and if you are priced appropriately you can expect qualified tenants to move in quickly.
Cons of Investing in La Mesa
Because of it's affordability and popularity, be prepared to offer the asking price or higher for these properties. Additionally, many of the properties in La Mesa are older, mid-century properties that may need quite a bit of work to get rent-ready (possible foundation issues, new roof, etc.) 
Things to Avoid in La Mesa
When choosing where to buy your investment property, you should be on the lookout for a few things. These things can be a red flag for the kind of area you want to avoid. 
Trash in the front or backyard 
Vandalism nearby (graffiti, damaged property, etc.) 
Multiple vacant homes close by 
Poor street light; street feels unsafe
Backs up or is close to a major highway or freeway 
Foundation issues 
La Mesa Grossmont (91942)
$860,000 Single Family Home
$525,000 Condo (year to date)
La Mesa Mount Helix (91941)
$1,000,000 Single Family Home
$490,000 Condo (year to date)
There is a good mix of apartments and single family homes in the La Mesa area. 55% of homes in La Mesa are rented, compared to 34% owned. 
The average rental rate for a single-family home.
The average rental rate for a condo.
The average rental rate for a one bedroom apartment.
Join our community of homeowners.
First Month Management Free for Veterans and Active Duty Service Members
We understand that when an active duty military member has to relocate, they often need to find a good La Mesa property manager quickly. Our team is ready to respond to their needs.
Your success is our business. That's why we created the Learning Center, to educate our clients on essential California rental knowledge. Through blogs, videos, e-books and more, we share the most up-to-date information to help you succeed.